Review by Andrew K. Clark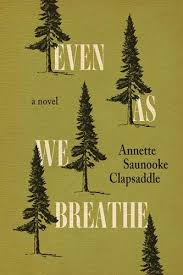 Even as We Breathe
By Annette Saunooke Clapsaddle
University of Kentucky Press
$24.95.
Annette Saunooke Clapsaddle's novel, Even As We Breathe (The University Press of Kentucky, 2020), tells the story of two nineteen year olds who leave Cherokee in the summer of 1942 to work at the Grove Park Inn in Asheville, North Carolina, at a time when Axis diplomats are being held at the resort as pseudo-prisoners. Cowney Sequoyah, the central character of the novel, gets a job at the inn working on the grounds, while Essie secures a role working inside the inn. Cowney falls for Essie (though she has other ideas) while getting caught up in the case of a missing diplomat's daughter. Being Native American makes Cowney an automatic suspect in the eyes of the white authorities, and he must work to prove his innocence with the help of his family and a connection made by his father.
Even as We Breathe is Saunooke Clapsaddle's debut novel and the first published by an enrolled member of the Eastern Band of Cherokee Indians. Like her characters, Saunooke Clapsaddle left the mountains of Western North Carolina at around the same age as Cowney and Essie, receiving degrees from Yale and the College of William & Mary. Like Cowney and Essie, Saunooke Clapsaddle left the Qualla Boundary for a world that had a limited understanding of her culture and experiences. Eventually Saunooke Clapsaddle returned home where she worked for the Cherokee Preservation Foundation before becoming an English and Cherokee Studies teacher at Swain County High School.
Saunooke Clapsaddle's novel expands the definition of American Literature and helps to mend an unfortunate gap in the southern Appalachian literary canon. While the novel is an important contribution to Native American literature as well as historical novels set during World War II, readers should know that they will find a riveting story within its pages.  While there are moments of lyricism, Saunooke Clapsaddle's tight prose reminds me of James Baldwin's advice to "write a sentence as clean as a bone." Indeed, Saunooke Clapsaddle has said this Baldwin quote was in her mind when the story sprang to life from a writing prompt.
Even As We Breathe knows and loves its setting. Early in the book we see 1942 Cherokee from Cowney's eyes:
Cherokee was mud-chinked log cabins burrowed into mountain hollers, surprising expanses of neat garden rows jutting across rare unwooded land at the end of roughly carved dirt roads—half washed away in the spring and summer and impassable with snow in the winter. But no matter where human life chose to carve its mark on the land, it did not stray far from water—creek, river stream, or fall—follow one and you would find Cherokee.
 This description contrasts with what Cowney and Essie find when they make the several hour drive to Asheville for work:
The sidewalks on either side of us seemed to move like conveyor belts as sharply dressed men fell into office buildings and tightly dressed women pulled small children behind them, careful not to drop purses or their early-morning purchases. An almost rhythmic opus of car horns signaled lackadaisical street-crossers and distracted drivers…Emerging sunlight sparkled off copper guttering and art deco tile designs framing doorways.
The heart of the novel focuses on questions surrounding place and identity. Cowney and Essie never quite feel at home at the luxurious resort at which they work, with its privileged and wealthy guests. They struggle to fit into their mostly white work crews, and Cowney is harassed by a coworker who makes snide remarks about the Cherokee and "restless natives." Cowney experiences more of the same when he and a friend go to a movie theater to see The Great Dictator.  The clerk there tells him "We don't serve Indians here." And yet, Cowney also has mixed feelings about returning home: "I did miss Cherokee when I was at the inn, enough to make me question if I'd ever find a place I was truly happy. Each held something for me the other did not."
Essie and Cowney eventually find a place they can call their own when they stumble upon an unused room in a remote corner of the inn. Essie teaches Cowney how to play dominos in this sanctuary, and there they are able share their hopes and dreams for the future, away from the eyes and ears of their coworkers, or the weight of home.  In the room they develop a friendship and love that grows much deeper than Cowney's initial infatuation. While their peace is shattered when Cowney has to defend himself against accusations that he was somehow involved in the disappearance of a diplomat's daughter, their time alone together becomes an important part of who they are: to each other, to Cherokee, and to their futures.
Even As We Breathe is a well-told story with nuanced characters trying to find their way in two worlds. Beyond his struggles with the authorities, Cowney must deal with his feelings for Essie, as well as the complex family dynamics back home between his grandmother, Lishie, and his uncle, Bud, whose southern Appalachian vernacular reminded of my own uncle's. In the end, Saunooke Clapsaddle has given us a damn fine story, one that will keep the reader invested in turning the page. The author has also given us much to think about: our place in the world and having empathy for the experiences of those around us. Of the Cherokee, Saunooke Clapsaddle writes, "Empathy is fossilized in our bones." Cowney comes to understand this, and his connection to the land of his people:
… these mountains have ingested our bones for centuries so that we might renew this soil with memory—memories of our people—our strengths and weaknesses—our losses and loves.
—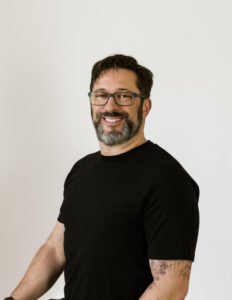 Andrew K. Clark's work has appeared in Rappahannock Review, The Wrath Bearing Tree and other journals.  Main Street Rag Press published Jesus in the Trailer, his full-length poetry collection, in 2019. He is searching for a home for his first novel, The Day Thief, a novel of magical realism.