Ron Burch
She was dragging herself down the driveway to the farmhouse. My uncle's farm sat on one side of State Route 36-37, a major truck route through central Ohio. My uncle stood next to me.  He had the 12-gauge in his hands.
Boots was a black long-haired cat, but all her feet were white. She had been born in the back barn, the only one surviving her litter. Now she was weakly mewling as she crawled towards us.
Let's take her to the vet, I said.
Her back is broken, my uncle replied, do you know how much pain she'd be in if we tried to pick her up?
Boots was his favorite cat. He called her his best dog. Boots would hang off his shoulder as he did his chores, feeding and watering the other farm animals. He had what was called a gentleman's farm. None of the animals went to slaughter. My uncle's salary from the post office supported their lives. He had been raised on a farm in Maryland so he had a good knowledge of how to take care of the animals, kept his own meds for them, but wouldn't hesitate to call Doc Henry, the large-animal vet in Sunbury if there were problems.
A semi roared by, whipping the yellowing corn in the field across the road from us.  Boots had stopped moving and was licking her front right paw. I knew my uncle didn't want to do this. I knew that he would put her down in a second to keep her from hurting but even he was having trouble. He kept lifting the shotgun up, trying to sight it, but couldn't pull the trigger. Boots laid there quietly, still licking her paw. An old Ford pick-up truck rumbled by the interstate as we stood there awkwardly and empty.
My uncle lowered the gun. Maybe we should call Doc Henry, he said.
We don't know how long'll take for him to get here, I replied, it's foaling season.
He shook his head. I never saw him like this before. He handed me the shotgun and walked over to Boots and rubbed her head. She cried at him. Even I knew that was a mistake and I'm about as soft as they come.
Uncle Bill, I said, back away.
He looked up at me from where he was hunched at the knees, a man touched. Uncle Bill wiped his face and backed away. I aimed the shotgun, having never shot anything more than old cans on the cement wall behind the back barn, but I couldn't stand to see either of them suffering like this. I pulled the trigger.
Honestly, my eyes had been closed and I was lucky not to have shot Uncle Bill, but I didn't miss and Boots was finally at peace. Uncle Bill covered her gently with his barn coat. He walked over to me and took the shotgun into his hand.
Never easy, he said.
No, I replied, never is.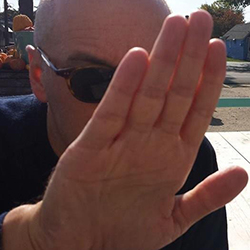 Ron Burch's fiction has been published in numerous literary journals including Mississippi Review, The Saint Ann's Review, Eleven Eleven, Pank, and been nominated for The Pushcart Prize. Bliss Inc., his debut novel, was published by BlazeVOX Books. He lives in Los Angeles. Please visit: www.ronburch.com.