Lynn Marie Houston
The postman leaves a cage of babies,
angry ones who rattle, buzz, and hum,
babies who are hungry, who kick segmented legs
through the open spaces in a metal screen.
I feed them generous blasts of sweetwater
from a spray bottle, I mother them. I shake them
out of a hole in the shipping box and into
the hive I've made. Within weeks,
the foragers are already teenagers
wearing orange, pink, and white
from the yard's blooms. As I lean in close
to watch them leave the hive and return with
nectar and pollen, one of them passes too close,
entangles herself in my hair. I feel her wings
against my scalp, legs tugging fine strands,
the painful knot of us—mother and child.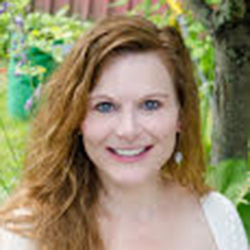 Lynn Marie Houston holds a Ph.D. from Arizona State University. Her first collection of poetry, The Clever Dream of Man (Aldrich Press 2015), won the 2016 Connecticut Press Club prize for creative work and went on to take 2nd place in the nationwide competition sponsored by the National Federation of Press Women. Poems and essays by her have appeared in journals such as Painted Bride Quarterly, Ocean State Review, Word Riot, Squalorly, and many others.