Merrill Oliver Douglas
I lost the silver pendant
Malka gave me when I was eight.
Lost my grandmother's spoon
and great-grandfather's teapot
and cracked Jane's Japanese cup.
I lost Jon Cohen entirely—
eighth grade teacher,
sideburns, blue eyes, name
so common Google shrugs.
Mrs. B's print cotton robe,
a Christmas gift, I cut for dust cloths.
Anne's peasant blouse I've worn
down to patches and threads.
Now Anne's gone.
Monkees albums, guide to the World's Fair—
vanished. Also the ten or so chords
I learned on guitar.
I drop more Yiddish year by year,
and I must have misplaced my father,
my cat, the white dress,
the infant I nursed, the sticky toddler.
How many years till a swollen river
swallows the shoebox of mail,
the photos, cassette tapes, thumb drives,
and leaches the ink
from my twenty-three journals,
every loop and dot of this life
sipped off like so much vodka?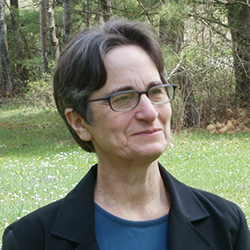 Merrill Oliver Douglas studied in the writing program at Sarah Lawrence College and earned an MA in English from Binghamton University. She has published poetry in Connotation Press: An Online Artifact, Barrow Street, San Pedro River Review, Baltimore Review, Lips, and IthacaLit, among other journals. She lives near Binghamton, N.Y., where she earns her living as a freelance business writer.