Kym Cunningham
You look past the barista at
your local wooden shop,
eyes fixated on slippery plastic and
the grubby metallic clink
of coins.
The question you cannot
answer: what kind of hyphen
is she?
You cannot answer because you
do not see her.
But you see your
coffee, the same color as
her skin, the same color as the
boots she wears to walk from the parking
lot to the bus stop across
the street, the same color as the
shoes pressed against the same color as her
throat, as it pleaded, please, but her pleas
couldn't be heard under the color
that choked her, peeled her
apart like a mango
until she saw the spear inside.
Please
Her tears fall into the rain, drip
into the gutter.
The cement
does not forgive.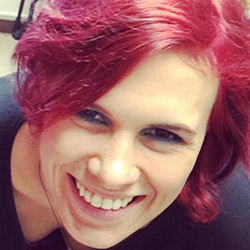 Kym Cunningham will receive her MFA from San Jose State University with emphases in creative nonfiction and poetry. She acted as the lead Nonfiction Editor of Reed Magazine, the oldest literary magazine West of the Mississippi. She received the Ida Fay Sachs Ludwig Memorial Scholarship and the Academy of American Poets Prize for outstanding achievement in her writing. Her writing has been published in The Writing Disorder, The 3288 Review, Drunk Monkeys, and Reed.