Christine Grimes
Willie, Waylon and Cash are all missing
and the click and slap of each choice
forms a steady beat in the jukebox
as the plastic sleeves build on the left
while I scroll for someone familiar.
Instead of the haggard faces I seek,
Taylor Swift and Keith Urban
offer songs about country music
where they drop the names of these old timers
to sound cool over their pop sounds,
disregard the guttural twang
of a bump ditty strum and steel guitar
that made those classics.
I've spent my life dancing
to "Whiskey River" or "Redneck Girl"
singing songs about the good ole boys
although I'm sure third wave feminist essays
argue the effects of young girls
listening to lines about men
staying out all night
and women begging for their return.
But I miss dusty cowboy boots,
the clean line of a Stetson
cutting against the setting sun,
don't mind being a little sweaty
from a tight hold during a fast two-step,
miss the impromptu cotton-eyed-joe
in the back of a pool hall
or adlibbing "Lucille, you bitch, you slut, you whore,"
too loud in a corner booth with rowdy friends.
And I keep looking
in the jukeboxes
of Northern New York
hoping to find someone
who will make me sweat
and shout
and cry into my beer.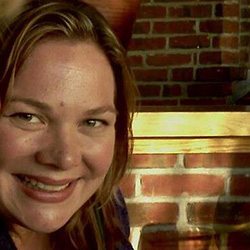 Christine Grimes' poetry has been published in The Black River Review and in the anthology Joys of the Table. She has also had fiction published at journals such as Cutthroat, 2 Bridges Review, and Passages North, and work which has been nominated for a Pushcart Prize. Grimes' debut poetry collection will be published by Jane's Boy Press in early 2016. Find out more at www.christiegrimes.com.