Review by Russell Jackson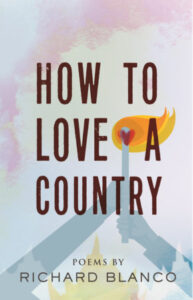 Richard Blanco and his work found mainstream recognition when he became the first gay poet to join the esteemed circle of poets like Robert Frost and Maya Angelou as a presidential inaugural poet.  In 2009 he delivered his inaugural poem, "One Today" for the first African American president, Barack Obama. Ten years later, his new collection, How to Love a Country not only seems to be a continued narrative of celebrating the diversity of America, but also a timely urgent message of hope for a country bruised by deep political divide and reopened racial wounds.
As in his previous collections, Blanco expertly weaves his personal second-generation Cuban immigrant narrative into the fabric of his poetry which creates a beautiful patchwork quilt of Americana verse reminiscent of Carl Sandburg and Philip Levine.  He grapples with the beauty of America as well as the injustices. In "Complaint of El Rio Grande," Blanco addresses the sociopolitical hot button issue of immigration via the building of a wall between the borders of Mexico and the U.S.  Giving the famous border river El Rio Grande a voice, the river pleads to be recognized as the role it plays in nature, not in politics. In the opening line the river addresses the reader by pointing out a simple yet poignant truth: "I was meant for all things to meet."  Within the first line the reader is faced with the role the river plays in the natural world of creek meeting river, river meeting ocean.  Yet, the reader is also confronted with the inferred political implication that this river also serves as a division—a split between humanity and politically manufactured racism.  Take for example this verse:
You named me big river, drew me—blue,
thick to divide, to say: spic and Yankee,
to say: wetback and gringo.  You split me
in two—half of me us, the rest them.  But
I wasn't meant to drown children, hear
mothers' cries, never meant to be your
geography: a line, a border, a murderer.
By the last verse, the river returns to the natural narrative:
I was meant for all things to meet:
the mirrored clouds and sun's tingle,
bird songs and the quiet moon, the wind
and its dust, the rush of mountain rain—
and us. Blood that runs in you is water
flowing in me, both life, the truth we
know we know: be one in one another.
The river ultimately provides the reader a hopeful note.  It acknowledges its natural role as dividing two countries, but asks that we also consider that it is ultimately meant to flow until it meets its next natural relationship.  That flow is metaphorical for diplomatic dialogue.  Meaning that we meet one another not as water hitting rock, but as continuity into another.  An ebb of grace in humanity, a deluge of goodwill, not division, malice, and racism.
Blanco has always been skillful in capturing the visual and multi-sensory experience in the imagery of his work.  Like his native Cuban-American Miami, his imagery has always been vibrant, full of color and brightness.  In this collection though, Blanco has a quieter, almost reverent tone. Yet, he masterfully captures the simple loveliness of nature and wields that beauty in a way reminiscent of poet Stanley Kunitz—building those images through the natural world to comment on the state of our very human existence and placing it in conversation with the sociopolitical climate.   In his afterword Blanco states, "the public role I was assigned as inaugural poet prompted me to explore more deeply my own civic and artistic duty in questioning and contributing to the American narrative through my poetry."
In the last line of the poem, "Como Tú/ Like You/ Like Me" Blanco writes, "Like thirst, like hunger, we ache with the need/ to save ourselves, and our country from itself."  Like the river seeks the ocean, Blanco seeks a union between people of all diverse origins.  Blanco reaches into nature to find not just a balm for the partisan narrative in America, but a way back to a flow of conversation and civility—a way out of the muck and mud of hateful rhetoric and the dark headwaters of misogyny and racism.
How to Love a Country, Poems by Richard Blanco
Beacon Press. 2020. 112 Pages, $14.00 [paper] ISBN: 9780807043073
---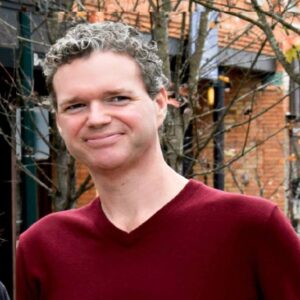 Russell Jackson is a current MA in English/Literature from Southern New Hampshire University.  He holds an MFA in poetry from Converse College, and a BA in English from The Evergreen State College.  His poetry has appeared in the Doughnut Factory literary journal and the online poem project, HIV Here and Now produced by Indolent Books. He resides, writes, and teaches in the Blue Ridge Mountains of Western North Carolina.