Robed preacher—diaphanous, jellyfish—waves the boy into the water, slap of blue,
Caribbean and earnest, god-pool. Nettles of cold shrink the boy's balls, pearls carried in summer camp trunks beneath his own flowsy billowing. Below: organist-wreckage, Titanic's piano, breakers of prayer, foamed lips, Nereids in green satin singing wade in the water. A square of gauze nets the boy's face, draws him under words and names,
bubbling through the glass-walled tank, his feet bottom-weighted, hidden. Algae hair fills his eyes, fills the preacher's fist, the boy held under, breath filtered through seconds, desire filtered through guilt. He opens his eyes to the blue rhythm of eternal moments,
closes them to the promise he has bargained: Manna from on high, an eternity of bright
pebbled streets, golden castles where we all shall live.
---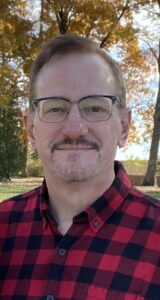 Brad Barkley is the author of the novels Money, Love and Alison's Automotive Repair Manual, two collections of short stories, and three YA novels with Penguin. His fiction has appeared in Southern Review, the Oxford American, and Glimmer Train. He's won numerous awards, including a Fellowship from the National Endowment for the Arts.