by Ivy Raff
After Allen Ginsberg's "Personals Ad"
Me:
Semi-vivacious redhead beginning
to yellow-gray at the temples: get it
while the getting is good. Russian thighs,
Communist sentiment, soup-simmering
skills – a living tribute to my grandmother.
Long walks on the beach. Moonrises,
especially when gold, or harvest, or close.
Bookish. Every day begins with at least twenty
pages in bed, at least topless: Alice Walker /
Jimmy Santiago Baca / Me / Tea.
You:
Not white in the constructed sense.
European ancestry ok. Soft for a man.
Compassionate for a man. If you drink
or smoke marijuana much more than socially,
move on to the next ad. If you have never
gone to therapy, move on to the next ad.
Calm, detached, non-avoidant warrior.
I know it's a lot to ask. I'm asking. Vegetarian.
Loves to travel – sleeping in tents a plus. Voracious
sexual appetite for big butts.
Replies to:
28-69 Faber Terrace
Far Rockaway, NY 11691
---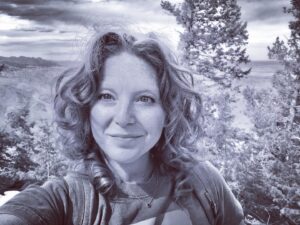 Ivy Raff's poetry appears in The American Journal of Poetry, The Bangalore Review, and Nimrod International Journal, among others. A 2022 Alaska State Parks writer-in-residence, she was a finalist in the 2021 sweettooth//HONEY Micropoetry Contest and a semifinalist for the Pablo Neruda Prize for Poetry. Ivy lives with her partner in Detroit, the contemporary and ancestral homeland of three Anishinaabe nations.