by Alice Lowe
 A slice of a city on a small strip of paper
I take a book from my backpack to while away ten minutes before my dental appointment. I open to the bookmark I've used since I started reading it, but only now does it grab my attention. Garden Books. London. At first I can't place it, but an abbreviated map on the bookmark recalls my mid-nineties visit to the Portobello street market, a London institution, several blocks lined with vendors of fresh produce and home-baked pastries, vintage clothing and custom jewelry, new and used household goods, antiques and bric-a-brac. Near the top of the road, on Blenheim Crescent, I discovered Notting Hill Bookshop and Books for Cooks, both still there, and the now-closed Garden Books. On the back of the bookmark I'd written a long-forgotten name—Mirabel Osler, an English garden designer and author whose books I'd admired.
I'm not a collector, and I rarely acquire mementos from my travels. But I've saved bookstores' give-away bookmarks, even though they've ended up in desk drawers and junk drawers, between and under sofa and chair cushions, on my bedside table and end tables, in partly-read and not-yet-read books. At some point the practice became intentional. I gathered these nomadic strips of paper into a basket of their own and deemed them a collection.
In 1993 my husband and I made the first of a dozen trips to Britain over the next 14 years. We divided each visit between London, Rodmell in East Sussex—where I followed the tracks and trails of Virginia Woolf and her Bloomsbury contemporaries—and someplace new: Devon, Cornwall, Yorkshire, Scotland. We explored small towns and villages, often finding secondhand bookshops, which we'd browse at leisure, followed by a pub lunch or afternoon tea. The shops didn't offer bookmarks, but flyleaf notations and prices in British pounds in books I bought stir memories. My worn paperback of Virginia Woolf's Death of the Moth is marked £3, Lewes 8/93, summoning up Bow Windows Books on the Lewes High Street and my first Woolf pilgrimage.
London yields the grande dame of bookmarks, a forest green, gold-embossed marker from Hatchard's on Piccadilly, the oldest bookshop in the U.K. and self-proclaimed "booksellers to the Royal Household." I recall my awe the first time I walked through the door, following in the footsteps of probably every writer who has set foot in London over the past 200-plus years. From our visit to Scotland in 1995, I vividly remember the fortress-like Edinburgh Castle, my first and only taste of haggis, and, thanks to my token bookmark, Edinburgh's Old Town Bookshop.
The oldest existing bookmark is from the 6th century, ornamented leather attached to the cover of a Coptic codex. In the 15th century, when books were published in limited numbers and regarded as precious, bookmarks prevented damage to bindings and fragile pages. In an early reference, the royal printer presented a fringed silk bookmark to Queen Elizabeth I in 1584. Narrow silk ribbons were bound into the tops of books' spines in the 18th century, followed by detached bookmarks made from silk and embroidered fabrics, and later from silver, gold, pewter, brass, copper, chrome, ivory, wood, leather, plastic, and paper.
Bookmark collecting has become a popular hobby. The International Friends of Bookmarks, with members in 36 countries worldwide, has established February 25 as World Bookmark Day. The Bookmark Collectors Club in Mumbai, India has 500 followers on Facebook, and a man in the Netherlands claims to have more than 100,000 specimens. Other collectors post, trade, and solicit on social media sites. The bookmarks that appeal to me, however, are advertising, not decorative pieces or collectors' items. Used widely to promote countless products and services, they're a natural for bookstores—and for me, a bookshop habitué.
Each of my 200 or so specimens evokes a store and a city, often a timeframe and companions, some in vivid scenes, others faintly recalled. I treasure my souvenir from Raven Books in Northampton, Massachusetts, though I don't need it to remember my first Virginia Woolf Conference, at Smith College in 2003, where I felt like a mouse at Cinderella's ball, surrounded by renowned scholars. I visited the Harvard Book Store on a prior New England trip, with a boyfriend who was nervous about running into an ex who lived in Cambridge. Hurried and harried through our whirlwind stop, I managed to grab a bookmark. I have few tokens from New York bookstores—Strand and Shakespeare in Manhattan, Heights Books in Brooklyn—because restaurants take precedence there.
Frequent trips to the northwest and the Bay Area are evident in my collection. I have keepsakes from numerous Seattle bookshops, from the charming Ophelia's to the institutional Elliott Bay on Capitol Hill, around the corner from Via Tribunali, my favorite pizza place. The celebrated Powell's Books in Portland offers curated bookmarks: "If you like [author or topic], try these," with a list of recommendations. My visits have yielded lists of Nobel, Pulitzer, and National Book Prize winners. In San Francisco's North Beach, drinks at Vesuvio's pair with homage next door at City Lights Booksellers, the legendary beat haven founded by poet Lawrence Ferlinghetti, whose image, in triplicate, graces bookmarks.
Closer to home, I have bookmarks from most of San Diego's currently active bookstores and a dozen more from ones that have shut down over the years, as independent booksellers everywhere struggle for existence in the age of Amazon and e-reading. The three latest additions to my collection are from bookstores my husband visited on a recent trip to Dusseldorf, Germany. Slices of another city.
My bookmark basket is on a high shelf in my study, so when I reach in for a new one—like choosing an unseen card out of a deck—I never know what it will be, but inevitably I stop and recall its origins before I put it to its intended use.
….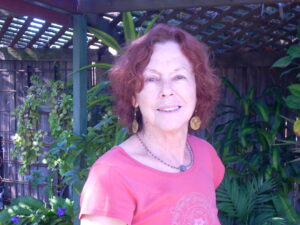 Alice Lowe writes about life, language, food and family. Her essays have been widely published, including this past year in Big City Lit, Borrowed Solace, FEED, Drunk Monkeys, Midway, Eat Darling Eat, Eclectica, Fauxmoir, Idle Ink, Superpresent, and Dorothy Parker's Ashes. Her work has been cited twice in Best American Essays and nominated for Pushcart Prizes and Best of the Net. Alice has authored essays and reviews on Virginia Woolf's life and work and is a regular contributor at Blogging Woolf. She lives in San Diego, California, and posts at www.aliceloweblogs.wordpress.com.
---