by Gordon W. Mennenga

My doctor asks if I've fallen lately
I reply we all fall
For instance last week I stood on a rocking chair
Changing a lightbulb and next thing
I was on the floor bruised but not broken
with my head resting on my ragged copy of Moby Dick.

I fell in high school too
For Jenny Tompkins who had the keys
To her wintering-in-Florida grandmother's house
Lights low clothes off we fell and fell and fell.

My doctor frowns recalling his first fall.

I say that I fell for the extended warranty for my toaster
A life insurance policy that is in fact a death promise policy
Oh and the buy three get one free tire deal.

The doctor winks when I answer yes to every question

I say that in college I fell for Sylvia Plath and Etta James
And for rusty Fords, Mazdas and Volvos.

My doctor's watch buzzes then chimes
He wants to prescribe a drug for constant elevation
I fall for it and run to the pharmacy 
Shaking hands with my shadow.

---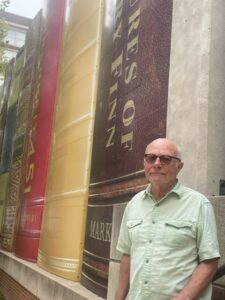 Gordon W. Mennenga has been published in the Citron Review, Epoch, Hamilton Stone Review, Bellingham Review, and Necessary Fiction. His work had also been featured on NPR and produced by the Riverside Theatre Company. Gordon has taught creative writing and film studies at DePauw University, Oregon State University, and Coe College. He often teaches in the Iowa Summer Writing Festival as well as editing manuscripts for other writers.