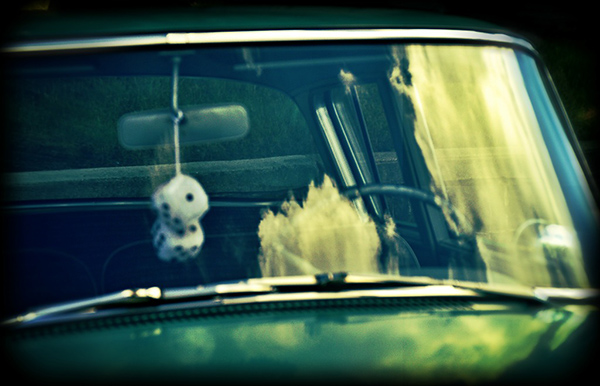 Louis Staeble, fine arts photographer and poet, lives in Bowling Green, Ohio. His photographs have appeared in Agave, Blinders Journal, Blue Hour, Conclave Journal, Elsewhere Magazine, GFT Magazine, Fifth Wednesday Journal, Four Ties Literary Review, Inklette Magazine, Microfiction Monday, Paper Tape Magazine, Qwerty, Revolution John, Rose Red Review, Sonder Review, Timber Journal, Tishman Review, and Your Impossible Voice.
Summer brings with it an occasion for automobile rallies and shows. Here one can inspect the car exterior skins much like viewing art in a local gallery. "Lucky Day" snaps into view as if a pop art icon could be caught napping. A cloud emblazons the windshield – a ghost in the machine. Yellow parking lines demarcate the neighbors.
View Staeble's other work at http://staeblestudioa.weebly.com.
A crop of this photograph is displayed on this issue's reviews page.