Annie Liontas
***
The fourth annual DISQUIET International Literary Program was held in Lisbon in 2014. Run by a group of North American writers with ties to Portugal, the program aims to deepen mutual understanding among writers from North America and writers from Portugal. The program takes its inspiration from The Book of Disquiet, the great Lisbon poet Fernando Pessoa's masterpiece; from the city of Lisbon itself; and from the late Portuguese poet Alberto de Lacerda, who believed above all in the importance of literary community.
"Write yourself naked, from exile, in blood."—Denis Johnson, Disquiet Writer-in-Residence
***
After working in isolation in Philadelphia for the past year, I started to realize that I've been waiting to be disquieted for some time. I was ready to be unsettled: I felt it in my bones, the restlessness, the need to find others like me. Somehow I knew I'd have to travel 3,500 miles before I could be reminded that there is but one nation, and that is the nation of writers.
It's been a long time since I've traveled, and never have I traveled for writing. This summer I answered Disquiet's call, which proclaims that "stepping out of the routine of one's daily life and into a vibrant, rich, and new cultural space unsettles the imagination, loosens a writer's reflexes."
Write Yourself Naked…
In Portugal, everyone goes naked, on and off the beaches. By this I mean that what I found at Disquiet were people, not writers, not speakers, not editors, not panels. Over two very potent weeks, I got a chance to see my colleagues up close for who they really were and not for their titles. I heard their work, broke Pao de Deus with them, and realized that there is something alarmingly honest about Disquiet's mission: when the time and place are right, we writers become true to ourselves, both on and off the page. I realized wasn't just among writers at Disquiet, I was among colleagues in a shared experience of discovery. We were all in it together, questioning and exploring and celebrating over vinho verde—lots of vinho verde, with every meal, and at the end of every night during raucous breakdancing and awkward writer-dancing at the strange hallway that is club Oslo. Yes, there was some getting naked in that way, too.
Some of my favorite moments during this conference were connecting with writers who were disarmed by the truly seductive, creative city that is Lisboa, talking—as I did with poet Erica Dawson—about how you need to let go of previous, precious selves in order to reach new work. Or hearing from Denis Johnson about how his first wife asked him when he was going to get a real job and he answered, "Never." He'd simply write on that bench outside and when he got tired, he'd sleep under it.
From Exile…
Disquiet contends that to be a writer, you must at all times be in exile. Writing can only come from a place of foreignness, because the writer is both within and without the world. This experience, in fact, is what led Fernando Pessoa to write The Book of Disquiet. The work, which refuses to be defined, originated in Pessoa's wandering of the bohemian, labyrinthine streets of Lisbon. It leaves us with fragmented insights like, "you'll discover your landscapes." The Lisbon that greets you at Disquiet, refusing to be mapped, is undoubtedly Pessoa's Lisbon. The city has even built the house of Jose Saramago to feel exactly like his brain, full of multiplicity and clauses. We had a chance to hear a number of readings at the Saramago House. This is just one of the many things that the conference does right.
At Disquiet I was reminded that there is something joyous about exile when you understand that you are not alone in it. Even the pain of disorientation becomes a kind of ecstasy when it's in communion. Patrícia Portela, Luso writer and winner of the Prize Acarte/Madalena Azeredo Perdigão, talked literature, politics, and octopus with some of us participants over dinner. With these lines from her novel The Banquet, Patrícia Portela reminds us how we—all of us members of the nation of writers—write from exile, together but apart.
I am at my funeral and I am speaking to a crowd of hundreds. I know them all and I remember the first time I met each and every one of them. They are all seated and I, on foot, divulge the secret of life.
In Blood.
True Artist Paula Rega: "Go to all this trouble to find out, all this fear you carry, how to depict it." @disquietilp #binders
There was blood in Portugal. On the Camino Portugues pilgrimage. In the willful, heart wrenching song of the fado. On a visit to the Casa das Histórias Paula Rego in Cascais, where Paula Rego, prolific and intense, does things you have never seen done with dog-women. Most of all there was blood on the page, when the writer dared to go deep and write honestly.
During my favorite workshop at the bar Maria Caxuxa, Alissa Nutting told me exactly what happens to a woman's vulva after pregnancy. Spoiler alert: it turns "rotisserie-chicken brown."  This was over a round of ginginhas, talking about our obsessions, which, for a writer, is often the lifeblood of one's work. Later in actual workshop, Alissa asked us to write about an object that your character can't and won't get rid of, even if it brings pain, even if it draws blood. Mine was the bones of an owl.
I think when Disquiet Writer-in-Residence Denis Johnson tells us to write "in blood," he means leave nothing of yourself behind. Hold nothing back. But sometimes writers need to feel that they are part of a community that can support such a sacrifice. Disquiet, paradoxically, becomes a safe space even as it pushes you, urges you, to get outside yourself—even as it requires nothing less than you meeting yourself in a new place in the world.
Maybe you've been feeling a little disquieted lately. If so, join the nation of writers next year, in exile, in Portugal.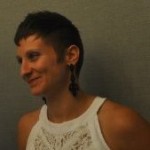 Annie Liontas' debut novel, Let Me Explain You, is forthcoming from Scribner in 2015. She is the recent recipient of a grant from the Barbara Deming Memorial Fund to conduct research in Trinidad for her newest work Badeye, which also received Honorary Mention in the 2013 Dana Awards. Her story "Two Planes in Love" was selected as runner-up in Bomb magazine's 2013 Fiction Prize Contest and was published by Bomb in December. Other stories and poems have appeared in Ninth Letter, Night Train, and Lit. She graduated from Syracuse University's MFA Program and co-hosts the TireFire Reading Series in Philadelphia.  Follow her on Twitter, @aliontas.