Cinelle Barnes
I write because I am the last to remember.
My mother lives between personas, dissociated from the world.  Some days she knows she has a daughter and a granddaughter, and I get a text message: What's up? How's the girl?  Other days she forgets that I am now married with a child, and will reply to my Merry Christmas from us three with a Don't forget to moisturize, use pads not tampons, wear a training bra.  I don't know where or how she lives; I don't think she does either.  Her micro-amnesias make her days seem like years and her years like days.  She forgets to brush her teeth and she forgets that she has almost died in front of me at least three times.
My father had a stroke in April.  Because of it, he experiences cognitive lapses.  His diabetes mimics symptoms of Alzheimer's and dementia: he attempts to unlock cars that aren't his, misses medical appointments, scrambles for house keys he's been clutching in his fist all along, and emails the same questions he already asked over voicemail: How do I copy and paste documents? How do I attach cover letters?  My Papa hasn't worked in seven years.
My brother dilutes recollections of broken champagne glasses, knives, and dead babies with vodka, tequila, and beer; he pulverized them along with the pills he crushed to dust and snorted.  He has worked as a club DJ for sixteen years, spinning vinyl for a crowd from nine p.m. to three in the morning, and sleeping during the day to evade sunshine and conversation.
Even the house we lived in no longer serves us in the business of remembering.  It has long been demolished; and where it was once erected, a mini-mall now stands.  I am as physical as these remembrances get.  My mother, father, and brother lead lives of forgetting, while I have made a living out of remembering.  My email signature reads: Cinelle Barnes, Memoirist and Essayist.
I also write to cope with post-traumatic stress, a disorder with manifestations I've experienced since I was thirteen years old: palpitations, hyper-vigilance, overachievement, over-exercising, a constant urge to urinate, self-injury, tightness in the throat, difficulty swallowing, difficulty breathing, inability to relax, excessive worrying, nightmares, and flashbacks.
Unlike my parents and sibling, I have been blessed with an extraordinary memory: sensory memory, short-term memory, long-term memory, explicit (narrative) memory, implicit (emotional) memory, episodic memory, and semantic memory.
I remember that my mother's morning tea smelled like tangerines and her perfume like rose-and-orchid.  I remember that my Papa's beard felt soft at the chin and coarse by his sideburns.  I remember that my brother's Ninja Turtles were a deep forest green while my father's ferns were sage.  I remember that our sheets smelled like Clorox and my brother's shirts like baby powder.  I remember that blood was crimson on my mother's nightgown and black in her hair.  I remember that the dead baby in Mama's arms had two wrinkles on his nose and one chap on his upper lip.
And I remember trying to forget.
I moved to New York when I was sixteen.  I stepped off the train at Penn Station thinking, This is my new life.  The push from co-commuters through the tunnels, the ascent on the escalator from underground to street level, birthed me into a new existence.  For seven years, I partied in the Meatpacking District, went to school in Chelsea, lived and worked on the Upper West and East Sides, brunched in the Lower East, and bought books and clothes and gelato in Williamsburg and DUMBO.  I went by my childhood nickname.  I lost weight and defined biceps and abs.  I cut my hair.  Striding down Seventh Avenue's spit-covered sidewalk, I pressed down on my mind's delete key; working in the art and fashion industries, I acquired a new motherboard – or at least I thought I had.
But then I met a guy. He said, "Tell me everything."
And I did.
He asked me questions like, "If you weren't in art or fashion, what would you be doing?"
I told him that all I'd ever wanted was to write.  So he gave me a Pilot V5 pen, a stack of 3×5 notecards, a lined Moleskin notebook, and a directive: "Go write."
I wrote everything, and the new motherboard broke.  I wrote everything again, and my wires re-circuited back to 1986, 1989, 1990, 1994, 1997, 1998, 1999, and 2003.  The symptoms came back: palpitations, hyper-vigilance, overachievement, over-exercising, a constant urge to urinate, self-injury, tightness in the throat, difficulty swallowing, difficulty breathing, inability to relax, excessive worrying, nightmares, and flashbacks.
I told him, "I am breaking."
And he said, "You're becoming a new kind of beautiful."
Every Thursday, at four o'clock, he drove me to counseling.  And every Thursday, at half past five, he wrapped me in his Marmot jacket, picked me up off the therapist's couch, walked me back to the car and took me home.  He held my hand as he drove through Charleston's sunshowers.  He prayed for me.  He fed me salsa and chips while I did therapy homework, which was, coincidentally, the same assignments due to my MFA mentor: write your memories; take the ugly and make something beautiful.
The counselor called it "prolonged exposure," a form of behavioral and cognitive therapy designed to treat PTSD.  By re-experiencing the traumatic events through remembering and engaging – or, in literary terms, (re)creating a sense of time, place, and attitude – I gradually became desensitized from objects and situations that used to cause distress.  I went through pictures; followed my mother's paper trail of newspaper clippings, court papers, and health records; and went on a virtual tour of my childhood neighborhood through Google Earth.  I interviewed relatives, asking them to describe moments they had witnessed: my parents and the helpers digging a grave in the garden, my mother running and stabbing the air with an envelope opener, and my brother over-dosing in his car.
My writing mentors assigned prompts and reading that retrieved data from my brain's primary storage (long-term history) and cache (short-term history).  I processed the data out loud to my therapist while holding on to tappers – two pulsers, one for each hand, that vibrated alternately and stimulated bilateral brain activity: left and right sides, explicit and implicit memory, narrative truth and emotional truth, plot and meaning.  In other words, memoir. 
After three years of researching and reliving, two years in an MFA program, and eight months in counseling, I turned in a manuscript of two hundred and twenty pages to my agent.  All of my memories, or at least what my body has allowed me to remember, now assembled as letters reaching from one side of a page to the other.  I can trace them with my fingers, sound them out, and breathe between syllables.  I can smooth the pages with the back of my hand, or dog-ear them and slip them into an accordion folder or a file box.  I can put them on a shelf, under my desk, or on the bedside table.  They are words on a page, just words, and I hold the pen.
I have remembered.  And I am new.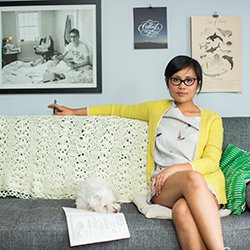 Cinelle Barnes is a creative non-fiction writer and educator from Manila, Philippines. She writes memoirs and personal essays on trauma, growing up in Southeast Asia, and on being a mother and immigrant in America. In 2014, she was nominated for the AWP Journal Intro Award for Creative Non-Fiction, and in 2015 received an MFA from Converse College. In 2016, she was chosen to be a participant in the inaugural Kundiman Creative Non-Fiction Intensive in New York City.