Katie Sherman
Prior to his successful app, Kelly Abbott didn't have experience in the publishing world. In fact, his first venture was a software company that "helped publishers wrangle comments on their sites. Our customers were CNN, ESPN, the Washington Post, and lots of smaller publishers," Abbott said. "After I sold that company, I took a few years off to charge my batteries and come at building a product as a publisher myself. In a way, I came full circle back to fiction and my roots in stories."
He did so through the app, Great Jones Street (GJS). GJS is a platform where short story fans can find quality literature as they wait in line at the bank, for coffee, or in the doctor's office. Abbott admits in 2015, he was an early and avid adapter to this platform but hated reading longer works, like novels, from his phone. So, he created GJS to fill two needs at once. It made good, short fiction more available to the masses. And, it was convenient to travel with and read anywhere. He eliminated the slush pile and put in place a referral system that is more conducive to discovering quality work and reserving editorial energies.  This month, we sat down with Abbott to discuss the inspiration behind the app, what the future holds for "the Netflix of short fiction" as GJS is often called, and the short fiction he's reading on a daily basis.
S85: Have you always been passionate about short stories?
KA: Actually, yes. I've never had much of an attention span. I used to go to my dad's readings as a kid and knew what a great art short stories were from the beginning. As a student, I was thrilled to be reading short fiction. Since school, I rarely read short fiction simply because it's so hard to come by. You have to buy collections or subscribe to a lot of journals. When I "retired" those few years, I was actively searching for short fiction to read on my phone, which I found I loved doing. But it was a lot of work. Hence, the idea for Great Jones Street was born. But it's the culmination of the smart phone and eBooks that really convinced me. There's been an inflection point technologically and economically which in my mind has driven me to the logic that short fiction will have its day again.
S85: What was the first short story you remember really inspiring you?
KA: Ray Carver, "What We Talk About When We Talk About Love." It's probably a cliche but I also read "The Things They Carried" by Tim O'Brien when it first came out because my dad was going bananas about it. I remember Vietnam and Alcohol were big in our house and both stories affected me deeply as a result. The truth is I immediately thought of "As Fate Would Have It" by my dad. It's my all-time favorite story. It has such a roll and rhythm to it, I can't ever stop reading it when I start it. It really takes you to another land.
S85: Who are some of your favorite writers of short fiction? Who are some of your favorite writers generally?
KA: Truman Capote. Absolute tops. He wasn't too prodigious in short fiction. But I love his stories. Every one of them. They're all perfect. They break like a perfect rack.
I can tell you that I have loved discovering science fiction as a 40-year old. Hugh Howey inspires me. I can read anything he writes. Ted Chiang is brilliant. Ken Liu can do no wrong. In literary fiction, Kyle Minor slays me. His collection "Praying Drunk" is the precipitating collection that made me get off my ass and start Great Jones Street. I recently discovered George Saunders and now I can't get enough. You can see my tendencies are to read (white) guy fiction. I can't help it. But as a result of publishing for diversity, my tastes have expanded considerably. I can tell you I love Carmen Maria Machado. Amal El-Mohtar writes genius level stuff. Becky Mandelbaum won the FOC this year and we have three of the stories from that collection. I love her stuff. Molia Dumbelton is funny and has a real story-teller's charm. Sarah Harris Wallman writes punchy fiction with real grit. Rob Hart is a name you're gonna want to remember. Great crime fiction. Anthony Neil Smith comes from a place you don't want to and for that I'm grateful he's a storyteller. I've recently discovered flash length fiction and there are a few callouts there. Bill Cook, Sherrie Flick, Sheldon Lee Compton and Meg Pokrass. We've broken some fresh talent too and I'd like to give them a mention. Terri Leker, Scott Laughlin and John Affleck. We were the first to publish each of them and they have bright futures.
S85: What problems have you seen in the publishing industry that Great Jones Street seeks to rectify?
KA: Discovery is broken big time. I'm reading writers now I would never had heard of if it weren't for their short fiction. This year alone we have 8 Bram Stoker nominees and 11 Nebula Nominees in our app.
S85: One of the recent additions to the app is the use of suggestions. Was that a top priority for you to include? Do you think this feature has helped support existing users?
KA: One of the problems with places like Amazon and Goodreads is that recommendations form clusters that are really hard to break into and out of. Let me give you an example. If I tell Goodreads I like Hugh Howey, it will recommend Ready Player One by Ernest Cline (a great book) and The Martian by Andy Weid (another great book). All three are best-sellers. Why? Because they're clustered. What they don't tell you is Ted Chiang and Ken Liu are ready to blow your mind too. With Great Jones Street, we can expose readers to the referral network only we have access to. Which is to say, if you like Ken Liu, well guess what? We can recommend you his favorite writer because he's the one who curated that selection here. It breaks away from best-seller land and gives writers a chance to really expose readers to their influences.
S85: What advice would you give writers in MFA programs that are struggling to publish at the moment?
KA: Send me your stories. We're the community for you. We're going to open up the platform for students specifically and help them make connections with our writers.
S85: What's in the near future for GJS?
KA: We're in growth mode. We're going to start accepting more titles from fresh writers and from A Listers. We're going to develop features that make the app more social. And, we have a really fun plan for audio books that has the writers reading their stories directly into the app itself from their phones.
S85: What's in the distant future for GJS?
KA: First we take Manhattan. Then we take Berlin.
About the Publisher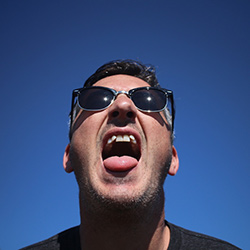 Kelly Abbott is a veteran entrepreneur in publishing. He lives in San Diego. He is the grandson of the founder of the Roswell UFO Museum.
About the Interviewer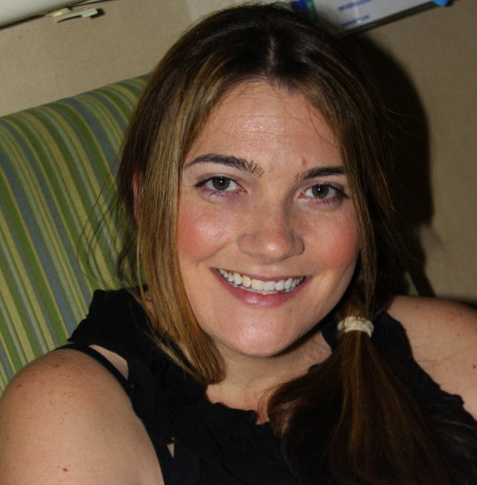 Katie Sherman is a freelance journalist in Charlotte, NC. She is currently pursing an MFA degree at Converse College. She has an affinity for Southern Gothic literature, cider beer, Chicago, and morning snuggles with her girls — Ella and Addie.