Gwen Holt
Short stories are the bread and butter of the writing industry. They are easy to pick up and read in one sitting, easy to teach in one semester, easy to edit and comment on in a reasonable amount of time. That's doesn't mean they're easy to write. A lot of blood sweat and tears go into the best short stories. But, when considering word count, they are more digestible than novels. Still, the novel hangs over writers like a mountain that's got to be conquered. If you feel like you have a good hold on short stories, the jump to a novel shouldn't be intimidating. Many of the same elements apply.
Characters
In a novel, just as in a short story, character development is key. You need well rounded, well planned, realistic characters that entice your reader to follow them down the rabbit hole. The cool thing about a novel is that you have the space to develop more of them. You can explore the strange aunt who lives around the corner, the neighbor with the creepy house, the best friend who might not be "the best" after all. Many novels even contain more than one main character. But, for a first novel, it's probably best to focus on one main character and use strong supporting characters to help move the story along.
Plot
Along with all those new players, you have the opportunity to expand your plot and explore subplots. Short stories can sometimes weave in one subplot. A novel can take the time to indulge in multiple subplots. Maybe the main character's aunt is interested in going back to school while the focus of the story is actually on the main character finding love again. The best plots weave together and add to one another. The aunt could meet someone at school that she introduces to her nephew inspiring true love. But just like adding characters, you need to be careful about adding too many sub plots. Make sure your main plot is solid and your main character, fully-formed. Only add subplots that deepen and add to the original story. If another plot is calling out to you for more attention, maybe you have another novel on your hands.
Details
Not everyone enjoys reading or writing pages and pages of scenery or exposition but a novel definitely gives you more space to explore physical descriptions and setting. Your reader is settled in for the long haul. Hopefully they are already in love with your characters, so you can lead them through the rooms and sights of your world at a slightly slower pace than you would in a short story. Don't let yourself get bogged down in that freedom. We only need to know so much about what everyone is wearing and if you're going to mention Chekhov's gun, then you better shoot someone.
In short, all you have to do is think long. Spill more time, more imagination, more blood sweat and tears, and definitely a lot more words onto your pages. Eventually you'll have it. Plan accordingly as you write. Find others who are writing novels and are willing to swap beta drafts with you. Asking someone to read an entire novel, especially a first novel or a rough draft, is a major request. Be respectful of other people's time and be ready to give back when they need similar support. Explore different methods of plotting. The internet is full of different ways to organize all the information needed to create and maintain a coherent novel. Find one that works for you or try out several until the magic falls into place. Give yourself reasonable deadlines. Yes, it's a lot of work, yes it's hard, yes, it could take years, but if you write every day, and don't let yourself get lost in an outlining maze, you'll have a novel before you know it. After all, nothing that feels better than writing "The End" on 60,000+ words.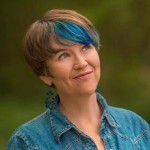 Gwen Holt was raised in the wilds of rural Idaho but found her heart in New York City. She worked at many interesting jobs before settling in as a mother and writer.  She now resides in North Carolina with her husband, four children, eight chickens, a fluffy dog, and two suspected serial killer cats. She has an MFA in Young Adult literature with Converse College and has served South 85 Journal as a Fiction Editor. She is the winner of the Southeast Review 2016 Narrative nonfiction prize for her short story, "The Ditch Bank and the Fence Line," and will publish her fourth novel for young adults, Imani Unraveled, this fall with Owl Hollow Press.
Featured Image Photo Credit: Photo by Denys Nevozhai on Unsplash