Review by Debby DeRosa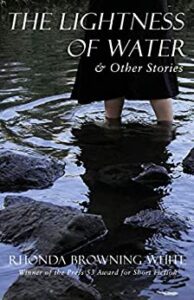 Rhonda Browning-White's debut short story collection The Lightness of Water and Other Stories, resonates with the uncertainty people are feeling in the current global pandemic. In each of its nine stories, characters face a challenge – or several challenges – that demonstrate how life can present us with what we do not expect. What to do in the face of these circumstances is not necessarily clear or easy.
For example, in "Bondservant," the opening story, the main character, Romie, talks her dying father-in-law out of blowing up the coal mines that made him sick and destroyed his family's land. When he agrees to get back into the Jeep and let her drive him home, he tells her, "'You done the right thing.'"
She replies, "'It ought to feel like it then, oughtn't it?'"
While Romie feels wrong stopping Paw from his suicide mission, Lurleen in "The Lightness of Water" thinks she is doing the right thing by not stopping the suicide of her depressed sister, Violet. Later, she grieves about not saving Violet, but she chooses to live with her failure for the sake of the baby she is expecting.
This dynamic repeats for a diverse collection of characters, such as a bitter Vietnam War vet, an excited girl on her birthday, a housewife striving to rise in the ranks of the Daughters of the American Revolution. For each situation, Browning-White writes with empathy, beauty, and poignancy to reveal the dignity of the characters' decisions in the face of their realities.
The collection ends with Romie and Jasper, the couple from the first story, but this time from Jasper's point of view. They are living in North Carolina, where his work clearing a forest to make way for condominiums feels as wrong as mining felt back in West Virginia. Romie has a miscarriage, her second, and she tells him she doesn't want to try for another baby. The story ends with Jasper's struggle to picture what the future holds for him and echoes what many people feel today: "I try to imagine what the future holds . . . Where will I work? What will I do with the rest of my days? I close my eyes, but I can't picture anything at all . . . "
The stories often end this way, making you wonder what will happen next and asking you to ruminate over a story before beginning the next one. Therefore, although the collection is short, expect not to rush through it, for it invites you to ponder its revelations as they relate to current worldwide events.
The Lightness of Water & Other Storis by Rhonda Browning White
Press 53. 2019. 140 pages. $1495 [paper] ISBN 978-950413-07-2
---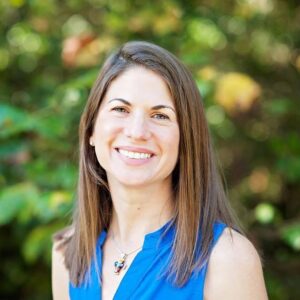 Debby DeRosa works in marketing and writes for various blogs. She holds an MFA in Creative Writing from Converse College, and she is the former Managing Editor of South 85 Journal.