Ann Herlong-Bodman
Let's pretend the room is dark.
You on your blue bedspread daydreaming when your
daddy comes swaggering down the hall bringing presents.
Hmm, not here since Christmas, but he's come to lead
the singing on Easter, make your church thunder
with hallelujahs, rock with hosannas;
let's pretend he promises
to watch you in the senior play, and you slip out front
to take a peek, but he's not there. Not that you expect
a miracle, but let's say he appears in the second act:
your dead-beat father, ashen in the stage lights,
new Afro, his deep brown face reminding you so much
of yourself, you forget your lines, forget how lonely you always are.
Then, one day
peeling peaches for a cobbler—crumbling sugar, flour,
and more sugar in a bowl and smearing sweet salted butter over
everything, taking your time when a door slams, and there he is,
smelling like Wild Turkey and Old Spice, you blinking
at white sharkskin and gold incisors, the loss of all the
years, when the knife leaves your hand,
clatters to the floor, and Gran appears, lifts the hem of her apron,
fans her face, speaks slow like she's from
high class Southern soil: Every girl need a daddy, but this girl
walking in the light. We don't need no trouble,
and your daddy steps back,
catches himself before he falls clear through
the screen door and slips away, you leaning against the table,
thinking this is just pretend, but there's a knife on the floor,
your gran reaching for the Bible, shaking and praying,
peach juice running down your wrist.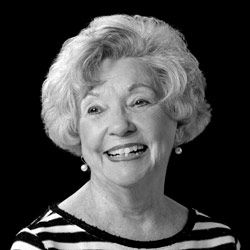 Ann Herlong-Bodman's work has appeared in numerous print and online journals, including The Courtland Review, Atlanta Review, South Carolina Review, Cold Mountain Review, Main Street Rag and KaKaLak, anthology of Carolina poetry. She is a former journalist, travel writer, and college teacher whose full-length poetry manuscript was named runner-up in the 2010 SC Poetry Initiative competition. A featured reader at the Piccolo Spoleto Sundown Poetry Series in Charleston, SC, she lives along the Carolina coast.