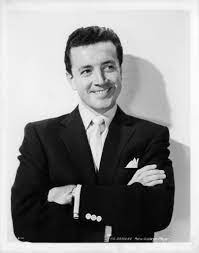 I said Vic Damone. He was a singer, like Mike Douglas
or Jerry Vale or Steve Lawrence, narrow tie
and pastel shirt, a pleasant enough face, pleasant enough voice
singing the standards, the love songs of his parents' courtship.
Think singing new songs so that they sound old, wrong,
nothing to fall in love by, but Vic Damone a star
in my family's firmament, because of the famous elevator ride.
At the Jersey shore for our summer vacation,
in a hotel with an outdoor pool, it was the afternoon
my sister and I were allowed to sunbathe by ourselves
as we waited for my mother to come down,
as my father took a nap in the room.
Could it have been that my mother and father
both took a nap, together? This question did not occur to us.
Anyway, we dangled our feet in the water, made sloppy,
slappy footprints to the plastic lawn chairs, and we waited.
When my mother stepped into the elevator, there he was,
Vic Damone, like any man wearing a polo shirt and plaid shorts.
My mother, bright white towels
pressed to her pink seersucker bathing suit with boy-cut legs,
my mother smelled of suntail oil, and did not speak a word
to Vic Damone, did not even look at him, although
she could not help but see his reflection
in the elevator's steel doors, until the doors slid open onto sunlight.
She walked over to us and sat, began combing my sister's hair
into a pony tail, while Vic Damone paused beside the elevator.
He put on his sunglasses, lit a cigarette,
maybe preparing to meet his agent or sign a contract,
to be driven to rehearsal for a show. Then he turned,
headed into the lobby, and my mother, still combing, whispered, 
That's Vic Damone, as if she spoke not a man's name, but,
rather, a verb or noun, and she was enriching our vocabulary,
vicdamone meaning "to prepare for departure" or "to pause,
to reconsider," vicdamone meaning "privacy in a public space,"
vicdamone the discretion that keeps strangers from saying
what could divert them from other, more important, things.
—
Suzanne Cleary's poetry books are Keeping Time and Trick Pear, both published by Carnegie Mellon. Her honors include a Pushcart Prize and inclusion in several anthologies, including Poetry 180 and Best American Poetry.